Overview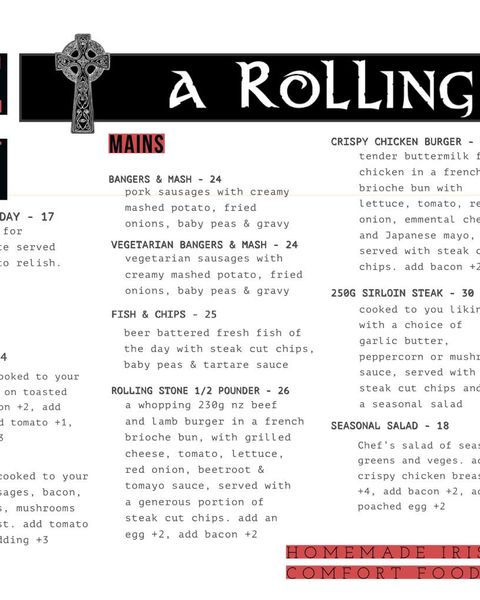 Address:
579 Colombo St
Christchurch 8011
Phone:
03 377 4787
Open hours:
Monday 4pm - late Tuesday closed Wednesday closed Thursday 4pm - late Friday 12pm - late Saturday 12pm - late Sunday 12pm - late
A Rolling Stone, the homely and relaxing bar, restaurant, and music venue on Colombo Street has something for everyone. The cosy interior is warm and welcoming – expect a contemporary but traditional space that lends itself well to a lazy lunch, a great coffee or maybe a decadent chocolate brownie or sundae!
Hearty dinners include everything from bangers and mash to Guinness pie, beautiful fresh beer-battered fish and chips and a delicious fish-pie. Or try one of the restaurant's signature lamb & beef, or crispy chicken burgers.
If you fancy something stronger, you're in luck. When it comes to Guinness, apparently they have the best pint around and their bar staff insist that good things come to those that wait. Each pint is settled long enough to guarantee a velvety consistency with a beautiful creamy head. Match your Guinness with authentic Irish curry chips! In true Irish style, the staff know the customers not just by their favourite drinks, but by their names as well. Make sure to ask them for their cocktail recommendations!
And, it just wouldn't feel right without music. A Rolling Stone is the best live music venue in town, showcasing a multitude of talent across many genres and styles, with national and international names, and local acts – why not enjoy your meal and stay on for the entertainment.
Book a First Table
Get 50% off the food bill for two to four people
Book a First Table
Get 50% off the food bill for two to four people