Overview
Burgers, Craft Beer Bar, Pub Food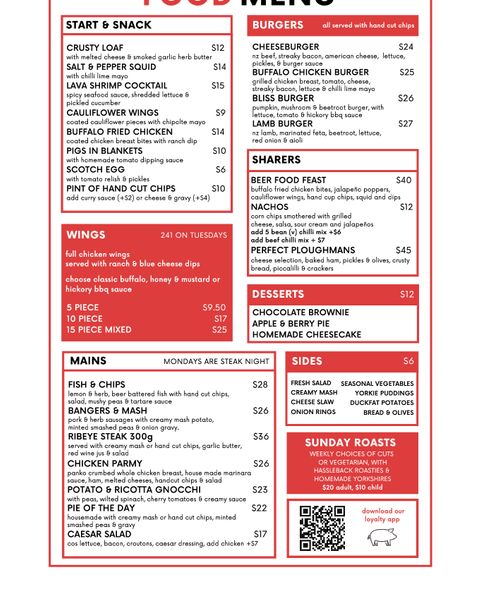 Address:
41 Ballarat Street
Queenstown 9300
Phone:
(03) 442 9055
Whether you're snorting with laughter or whistling with joy, Pig & Whistle is always happy to see you! Come on down for sumptuous pub grub with live music from Queenstown's hottest local talents!
Inside you'll find all the cosy trademarks of any great British pub. Dark wooden furnishings, majestic stairways and a bandstand for musicians accompanying your meal make for that home-away-from-home feeling. And their patio makes for a fantastically scenic spot!
Complementing the friendly atmosphere is their cheery menu that doesn't hold back on all things British. Fish and chips, Ploughman sharing boards and bangers and mash are perfect for all you good sports. And what's a pub without some burgers? Discover the likes of buffalo chicken, pumpkin and lamb patties on a comfy bed of brioche and salad.
And with a menu devoted to the kids, it's a family affair at Pig & Whistle. While away the evening with some live entertainment and join the majority of Queenstowners by calling this your new local!
Also: Be sure to download the 'Goldi' Loyalty App which you can also use in Christchurch venues Casa Publica, Carlton Bar & Coasters Tavern.
As a member, you will earn a discount immediately on selected items, and accrue points each item towards a bigger reward later on. Either way… you win!
It takes just seconds to download, so do it now to start earning points and rewards on your upcoming meal.
Download the Goldi Loyalty App at Apple App Store
Book a First Table
Get 50% off the food bill for two to four people
Book a First Table
Get 50% off the food bill for two to four people
Diners
Join more than 500,000 diners who already ❤ First Table.
Learn more
Restaurateurs
Join more than 1,400 restaurants who already ❤ First Table.
Learn more
© First Table 2014 - 2021