Overview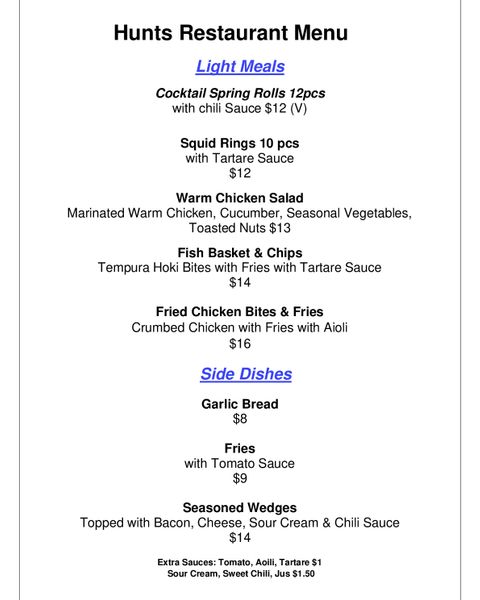 Address:
Kadima Lounge, 1st floor, Ricoh Sports Centre
Lower Hutt 5011
Phone:
04 974 8317
Open hours:
Everyday: 5pm - 10pm
Hunting for tasty food and great service? Hunts Restaurant is a sparkling addition to the Lower Hutt dining scene.
Located in the Kadima lounge on the first floor of Ricoh Sports Centre, 237 Taita Drive, Avalon.
Exceptional service and high-end ingredients in an elegant setting make dining at this restaurant very special indeed. Come in after a game, catch up with a friend or just enjoy the view! Work up an appetite, you'll be very deserving of.
The menu takes popular British food and elevates it with expert cooking methods and artful presentation. Begin with anything from warm chicken salad to loaded nachos and a sumptuous beetroot salad, bursting with those juicy purple jewels, toasted walnuts and creamy goat's cheese.
Less is certainly more with their five choices for the main course. Beef fanatics will love the beef burger and Angus steak while vegetarians can graze on the roasted vegetable lasagne. And for dessert, a delicious chocolate brownie awaits.
Book a First Table
Get 50% off the food bill for two to four people
Book a First Table
Get 50% off the food bill for two to four people