How to be a good diner in 2021
February 2021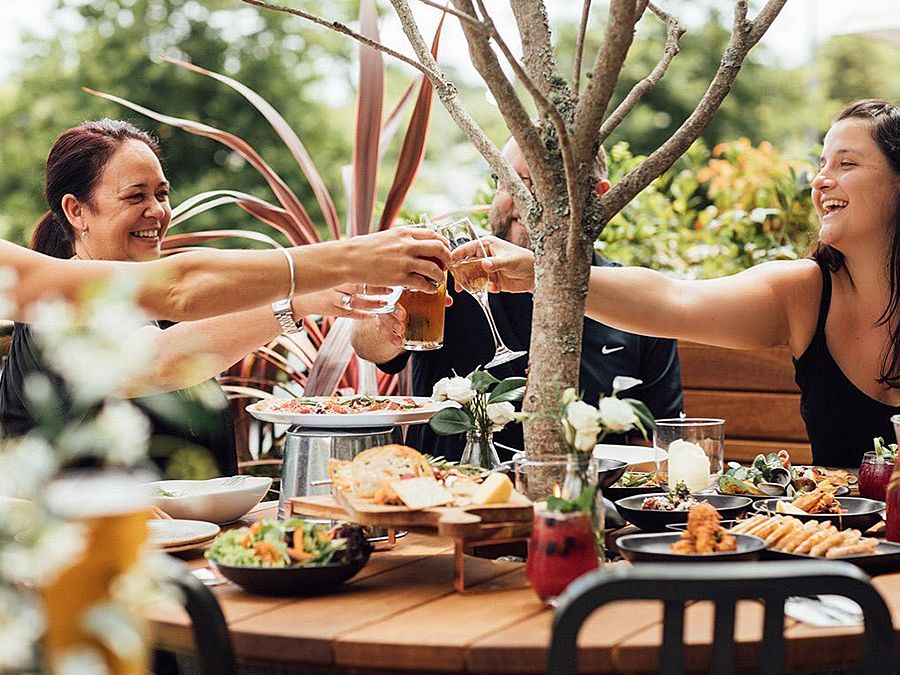 The clink of glasses, laughter with loved ones across the table and a mouth-watering meal whipped up by a culinary artist, sign us up. While there have been changes to the way we dine out in the past year, the reasons we dine out remain the same – there's just something so darn special about making memories with friends and family while sampling new #eats.
But when we're enjoying a meal at our favourite local hotspots, we need to remember that our hospitality buddies are working extra hard to make our experience fabulous. From the welcoming soul greeting us upon entry to the mastermind crafting our cocktails and the server going above and beyond to make our experience the best one yet – the people are what makes hospitality go round. So, let's show them our love and support by being good diners in return. But what does it mean to be a good diner? We've got five tips to up your dining game in 2021, read on.
Be mindful when dining out
While we're all having a great time supporting our local cafes and restaurants and filling our bellies with all kinds of deliciousness, we need to make sure that if there's a short blip in alert levels, we're mindful of the rules – like social distancing, wearing masks and using hand sanitiser. Regardless of the alert level, be sure to scan in using the NZ COVID Tracer app to keep track of your movements.
Share the love on social
Feeds full of beautiful brunch creations, pristine pasta, and oodles of noodles, we're here for it. No matter what cuisine you're into, all it takes is a follow on social media to sign yourself up for some serious food inspo. If you've had a great experience at a restaurant or there are a few on your dining hitlist, why not give them a follow? And if you like what you see, let them know. A simple comment, save or emoji on a post is essentially sending virtual appreciation vibes their way.
Most of us are guilty of getting phones out at the dinner table, but if it's for a quick food-gram, don't worry, we approve. Have you got an epic food pic from a date night, family dinner or catch-up with friends that's worth a share? A simple click, click, tap and tag and you're letting the restaurant know you enjoyed devouring the deliciously plated goodness. Plus you might get some virtual appreciation right back. Tag us in your @firsttable snaps with #firsttable for a reshare.
Write a positive review
How good does it feel when someone tells you you've done a great job at something? That's essentially what you're doing when you give a new foodie find or old culinary favourite a shoutout online. Whether it's on Facebook, Google or First Table's website, you don't have to be a wordsmith to leave a review – all you have to do is jot down a few words as to why you loved the experience, click share and voilà!
PSA: We'll let you in on a not-so-secret, secret...If you're dining on First Table, leave a review and you might win our review of the week – scoring yourself $50 First Table credit to lock-in a few more early bird dining experiences, how good?
Be kind and patient
If there is a blip in alert levels and we're not able to pop down to our local for a bite to eat, don't panic things will go back to 'normal' in due course. With this in mind, why not postpone your date night, catch-up or after-work drinks instead of cancelling? You know the age-old saying "the longer you have to wait for something, the more you'll appreciate it" – this one definitely rings true for delicious eats, and the restaurants will appreciate your support too ❤️
And when the blip is over, and our favourite hospo hotspots open their doors, be patient and kind as they transition back to normal again. Because, as they say, kindness makes the world go round.
Be an early bird
Who doesn't love an early dinner, especially in the sunshine? Head out and explore a new restaurant with mates or a secret date (we won't tell) and you'll have the rest of the evening for activities (or for the fellow nannas out there, you can be back home by 7:30pm!). When you dine on the First Table of the night, you not only get 50% off the food bill so you can eat your heart out, but you'll be supporting your local by filling tables at 'off-peak' times #winwin. The early bird special applies for two, three or four people, so grab your friends, family or colleagues and get exploring.
Simply go to www.firsttable.co.nz to book or sign up for a free First Table account if it's your first time (welcome 👋). 
Image credit: The Merchant Pub Co
Diners
Join more than 500,000 diners who already ❤ First Table.
Learn more
Restaurateurs
Join more than 1,400 restaurants who already ❤ First Table.
Learn more
© First Table 2014 - 2021