Overview
Pub Food, Tapas/Small Plates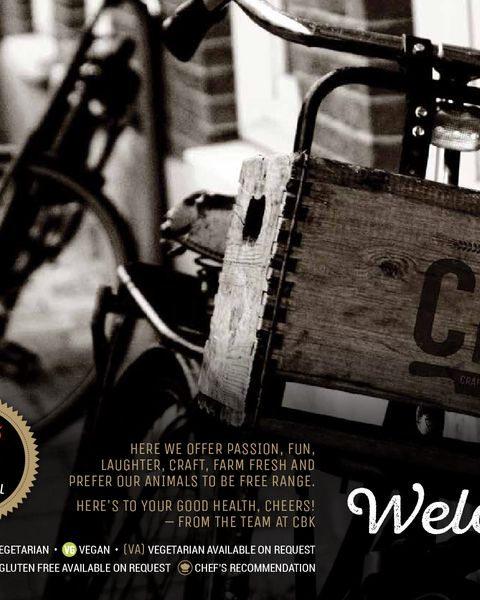 Address:
Unit 4, 77 Hilton St
Kaiapoi 7630
Phone:
03 327 9224
Open hours:
Mon-Thurs: 11am - 10pm Fri: 11am - 12am Sat: 9am - 12am Sun: 9am - 10pm
A warm welcome to CBK "Home of 60 Craft Beers"
CBK is first & foremost about flavour, where the exceptional food, handpicked beers & other delicious drinks will give you moments mouthfuls, to savour.
*We have some Speciality Dishes on our menu which are NOT available with the First table discount.
You are welcome to order them, but the 50% off discount will NOT apply.
***These meals are the Lobster Pot Stonegrill & our Oyster selection will not be discounted.
Using fresh produce, locally sourced where possible, CBK like to showcase seasonal stars throughout their menu. Combining classic cooking with creativity, food is served all day long so swing by to sample a range of tasty treats from light bites to hearty suppers.
Stonegrill dining is a new and exciting experience that allows your meal to be presented cooking on a heated stone at your table.
High temperatures sear in all the natural juices & nutrients, giving you a taste beyond anything you've ever experienced before.
Dining from the Stonegrill enables you to enjoy a meal freshly grilled to your person taste whether it is rare, medium or well done, your meal will remain hot and enjoyable, allowing you to dine at your leisure.
Stonegrill is one of the healthiest methods of cooking, as all produce is completely trimmed of fats and no added oils are used. The result is a freshly grilled. Heathy meal with a sensational taste unique to Stonegrill.
Smoking meats.
Hidden in the back there is a new addition to their crafty family a beautiful new smoker ready to " smoke it and serve it 24/7".
What makes it so finger licking good?
The Meat - is Top quality, free range local cuts.
The Rub – before cooking they massage their meat with a secret blend of herbs and spices to give it the unique flavours only found at CBK.
The Wood – Apple, Hickory or Maple each providing an unique taste infusion to your dinner!
Book a First Table
Get 50% off the food bill for two to four people
Book a First Table
Get 50% off the food bill for two to four people