Overview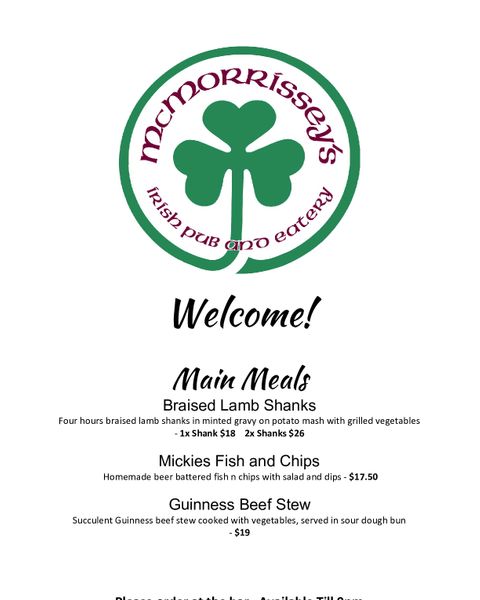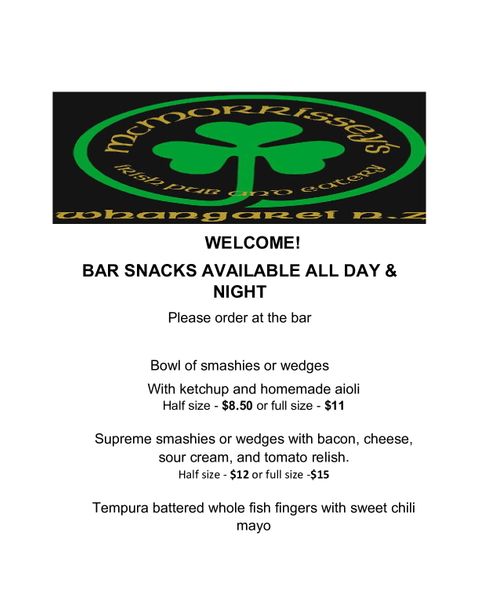 Address:
7 Vine St
Whangarei 0110
Phone:
09 430 8081
Open hours:
Mon Closed Tue - Thu 4pm - 3am Fri 12pm - 3am Sat 4pm - 3am
Welcome to the best little Irish pub in town!
McMorrisey's is a neighbourhood bar and kitchen, promising great food, drink and live music. Located on Vine Street, this is the perfect place for a bite to eat in the centre of Whangarei.
Decorated in true Irish colours, with rustic furnishings and plenty of local characters about, pull up a chair and enjoy a warm welcome from the team. Serving all your favourite gastro pub fare, dig into hearty steak, braised lamb shank and gourmet burgers. Don't forget to order a side of their famous hash browns (called smashies), served with homemade aioli.
Naturally, they serve the best pint of Guinness outside of Ireland, as well as a selection of local wines and craft beers on tap. If you're looking for a little slice of Irish cuisine and culture, be sure to book a table at McMorrissey's.
Book a First Table
Get 50% off the food bill for two to four people
McMorrissey's Irish Bar
Currently on a break from First Table