Taimi shares her obsession with First Table, food and her #my9pm
October 2020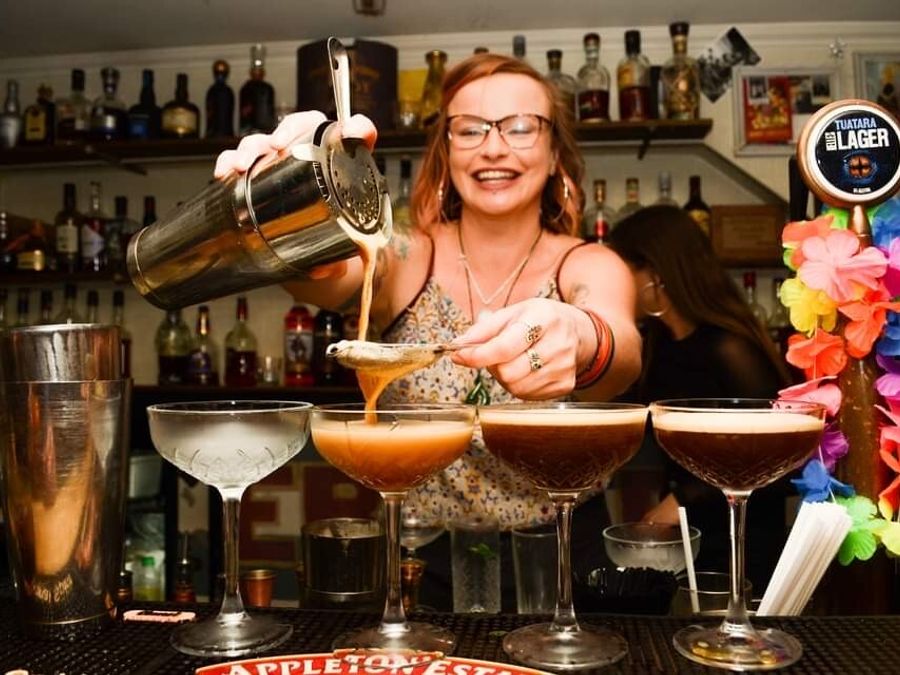 Working as a tour guide in Europe, Taimi made the leap to New Zealand with her company in 2017. A foodie at heart, it was travel that heightened her love for cuisine and obsession with First Table – which she'd use as her food directory on the tour buses to help other travellers discover dining hot-spots across Aotearoa. Now a bartender in Queenstown, and recent judge of the Battle Of The Burgers competition we spoke with Taimi about experimenting with food, how to score a First Table and her #my9pm ritual. 
1. Tell us a little bit about yourself and what keeps you busy during the day?
Sleep! I work late at Republic Hospitality, sometimes until five in the morning, so I wake up between midday and 2pm. I recently joined Hot Yoga Sanga so that I would do more with my day, rather than sleeping or lying on deck chairs in the sun. I start work at 5pm, but sometimes I work the odd day shift. 
2. Wow, over 60 bookings with First Table, you must have a favourite memory?
One of the first places I went to was Bazaar. It's just one of those places, it's great. Or Rata. First Table allows us to discover chefs and fancy restaurants that we wouldn't have experienced otherwise. In places like Queenstown, a lot of people are in hospitality and we're all about supporting each other. It's a good vibe, and we're happy to 'support local' through First Table. 
3. And your favourite place to dine out? 
I love markets like the night noodle markets in Sydney and Wellington. Travel helps you try new things and experience different cultures and cuisines. I like to go to places and try experimental dishes. I tried horse in Slovenia (it's a delicacy) and in Peru I tried live ants, they tasted like mint. 
4. That means you've been up at midnight 60 times too. Alarm or stay up?
I'm up anyway! It's a race to get a table as everything gets nabbed so quickly. 
5. Who do you share your dining experiences with?
My friends that I work with. We've got a messenger group of girlfriends called 'First Table Fam'. We're all so keen on the foodie specials in Queenstown. 
6. Are you the designated friend that books?
Yep, but not on purpose. Otherwise one of our friends will make the booking, and we'll sort them out later. 
7. Share or own plate?
Bento plate for the win. I love variety, so share all the way. 
8. What does your 9pm look like? Any evening rituals? 
I'm either shaking a cocktail in Habana, an espresso martini in Ballarat Trading Co, or setting up for a night of rock and roll at Zephyr. If I'm not working, I'll be on the couch with a candle having a romantic evening watching MasterChef. Or a foodie show on Netflix. 
9. Now that you can book your First Tables at 9pm, what's your race tactics?
I'm going to have to ask to go on my breaks early to make sure I'm not serving behind the bar. My obsession is real. I dine out most nights of the week, so my fridge stapes are eggs on toast. If I'm not dining at work, I'm dining on First Table.

First Table availability for the next seven days now rolls over at 9pm in New Zealand. Which means you can book a popular table for the week ahead, at a more reasonable hour! We'd love to see what your 9pm ritual looks like, whether it's Netflix and chill, racing to book a First Table or enjoying a drink with friends. Share it with us on Facebook: /FirstTableNZ and Instagram: /@FirstTable with the hashtag #my9pm
Diners
Join more than 500,000 diners who already ❤ First Table.
Learn more
Restaurateurs
Join more than 1,400 restaurants who already ❤ First Table.
Learn more
© First Table 2014 - 2021