Jane Guy reveals the Guy-Yeo family's #my9pm and evening routine
November 2020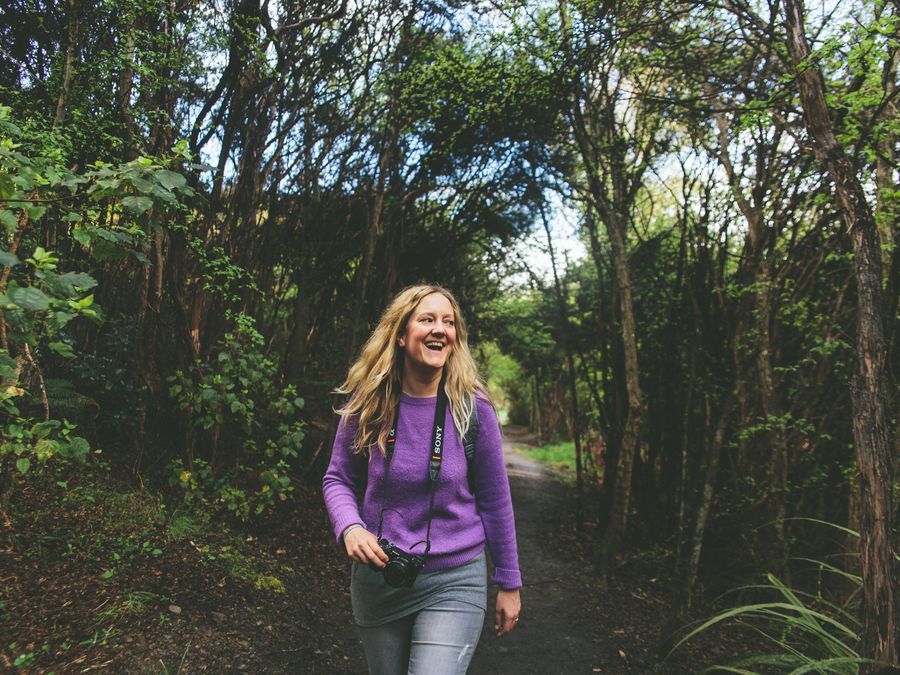 Jane Guy is not only a blogger (Queenstown Life), writer and triathlete, she's also one of the lovely ladies behind female business group, Queenstown Lakes Women and runs her own podcast. Oh, and did we mention she's also a mother to three-year-old, Wren. We spoke to Jane about how routine helps the Guy-Yeo family juggle two businesses in Queenstown and a little one, why eating out early is crucial and what their 9pm routine looks like.
1. Tell us a little bit about yourself and what a typical day in the life of Jane and the Yeo family looks like?
We're always up at 6:30am. One of us will get Wren ready and drop her off, while the other will head to work. I usually pick her up at 4pm, and she'll watch TV for an hour while I cook (and have a glass of wine). Our evening routine is exactly the same every night. We have dinner between 5-5:30pm, before the jobs commence - washing, washing, washing. At 6:30pm it's bath time or books for Wren. One of us will put her down, while the other gets a little bit of "me time". Once she's in bed, I generally work until around 8pm (while Trent works later) before squeezing in Netflix and then collapsing into a heap on the floor. 
2. Do you have a set family routine? And how do you make good habits stick? 
Yes. Kids love and thrive on routine, so generally, we'll miss out on certain things to keep our routine going. Communication, communication, communication is key. We decided really early on that we'd rather get up early so that we could keep our evenings free - so that's what we do. 
3. How do you maintain a good work-life balance?
I absolutely love the work I do, so my work is my life. We both really love doing the things we do. I have some rules in place, however, like turning everything off at 8pm and I don't work on weekends - Sunday nights are kept free for planning the week ahead. Trent and I are also trying to find some other hobbies, and want to start drawing together again. 
4. Who's responsible for cooking? And do you believe in the golden rule: whoever cooks shall not clean?
I'll generally do the cooking and the washing up, but I'd prefer to do that than get the little one ready for bed, ha! 
5. What's your family go-to meal for dinner?
We always pick a restaurant that's open early or has space for Wren to run around. The Sherwood is our go-to or Love Chicken as they have colouring in for kids. 
6. How does dining early fit with your family routine?
It's perfect. The earlier the better for us. Timing's always imperative because there's a thin line between "la la la everyone's ok" and "holy moly meltdown city".
7. What does your 9pm look like? Any evening rituals?
We're generally shutting things down, and putting something on TV or reading. And normally drinking wine. Trent is often working or looking at electric bike YouTube videos. He's a night worker and his business partner is in Canada, so working late helps with the time difference.
8. Parents at 7:30pm: "It's time for bed"
Kids at 7:30pm: "I need a snack, water, crayon, tissue, to do my homework"Sound familiar? What are your bedtime struggles?
She's pretty good. At 6:30pm she'll read a book and we'll sing Frozen or Old McDonald and then she'll go to bed. She'll often ask for a carrot or might wake up for a drink of water but that's about it. Having a routine has definitely helped with this. 
9. The last book you read?
How to Argue With a Racist by Adam Rutherford. I'm a serial reader of three books at one time, so also Antarctica and Ruby Wax's psychology. And children's book, Mr Magnolia by Quentin Blake.
First Table availability for the next seven days now rolls over at 9pm in New Zealand. Which means you can book a popular table for the week ahead, at a more reasonable hour! We'd love to see what your 9pm ritual looks like, whether it's Netflix and chill, racing to book a First Table or enjoying a drink with friends. Share it with us on Facebook: /FirstTableNZ and Instagram: /@FirstTable with the hashtag #my9pm
Diners
Join more than 500,000 diners who already ❤ First Table.
Learn more
Restaurateurs
Join more than 1,400 restaurants who already ❤ First Table.
Learn more
© First Table 2014 - 2021