Comedian and superfan Darren shares his #my9pm
October 2020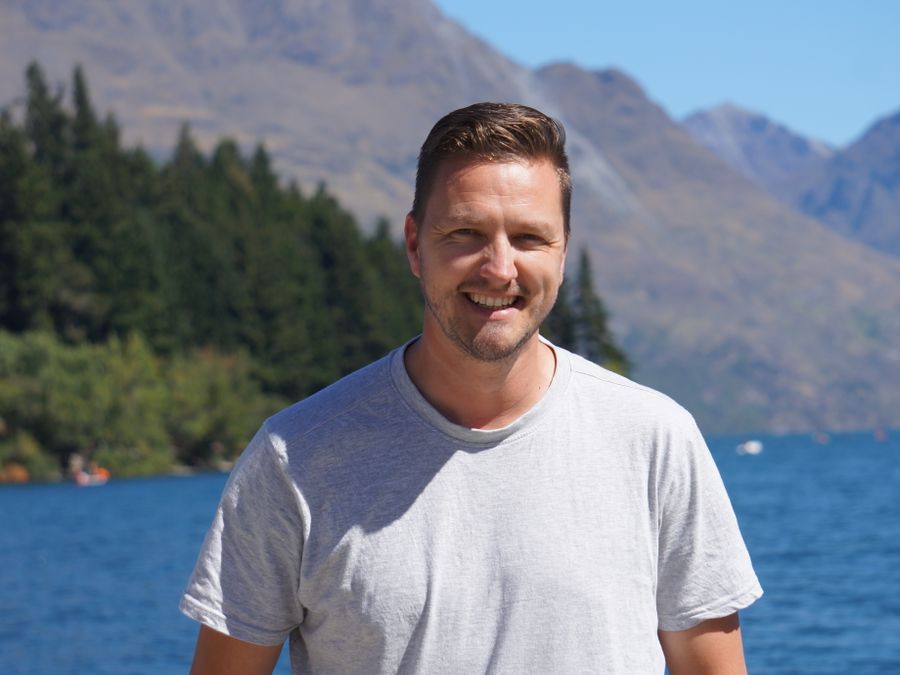 Originally hailing from the south west coast of Scotland, Darren Hill always had a passion for comedy (his dad was a comedian too). He not only performs himself, but hosts workshops to help "newbies" get better and says it's all about getting up and doing it - laughs or none at all. Darren tells us about his shared love for food, open mic comedy, and his 9pm routine. 
1. Tell us a little bit about yourself and what keeps you busy during the day? 
Travel is my daily money earner, but come 5pm I'm either writing comedy or hosting stand-up comedy nights at bars across Queenstown. My favourite is our sell-out open mic night, which happens fortnightly. We also host professionals from Auckland, and comedians on the international circuit such as award-winning Nick Rado from TV3's 7 Days. Comedy is the best feeling in the world, and it's the easiest thing to motivate yourself to do - the nerves never go, but you do learn how to use them to your advantage.
2. Wow, over 60 bookings with First Table, you must have a favourite memory?
It's double trouble in our house. My girlfriend is as much of a fan as I am, so if you combine our bookings that figure will be in the hundreds. We're huge foodies and use First Table weekly – generally for a midweek meal, but sometimes I put a shirt on and we head somewhere fancy. My favourite memories often start at Jervois Steakhouse, but I do have a fond memory of last year's Rugby World Cup grazing over the buffet at Bazaar as England lost to South Africa. Being Scottish, that was a good night!
3. And your favourite place to dine out? 
One of our favourites is Spice Room because it's easy and always so good. A lot of our friends use First Table to try new places, but we use it to try more dishes on the menu. We often find ourselves ordering three starters and three mains to share – it sounds like a lot but when you're dining on First Table, why not. When it's time for the bill, we've likely spent the same but enjoyed a much better experience for eating early. 
4. That means you've been up at midnight over 60 times too. Alarm or stay up? 
Sadly the days of staying up until midnight are a distant memory. If we were after a popular table, an alarm was our vice. 11:57pm was the optimum alarm time – leaving one minute to wake up, one minute to find the website and one minute to refresh for availability. 
5. Who do you share all your dining experiences with?
It's a mixture of date nights and double date nights with friends. Most of our mates are long term locals, but there are a few that have heard of the concept and have never booked. It's safe to say that they try it and then there's no stopping them, they're off on their own First Table journey. 
6. Are you the designated friend that books?
It's 50/50 myself and Jess. We won't normally discuss it before booking either. For example, one will plan to cook and the other will score a last-minute table somewhere. We make most of our bookings on the day or the day before. 
7. Wine or beer? 
Beer. [Hesitates]. With dinner, probably wine. 
8. What does your 9pm look like? Any evening rituals?
We've got a new cavoodle (cocker spaniel/poodle cross) puppy called Macaroni. We're living at the new Bullendale Apartments in Arthur's Point, so my 9pm is puppy pee time. We eat early, so some days there's a high chance we'll already be in bed or lazing on the couch binging a Netflix show. 
9. Now that you can book your First Tables at 9pm, what are you going to do with the extra three hours?
Set an 8:57pm alarm and sleep an extra 3 minutes. It's more of an extra. 

First Table availability for the next seven days now rolls over at 9pm in New Zealand. Which means you can book a popular table for the week ahead, at a more reasonable hour! We'd love to see what your 9pm ritual looks like, whether it's Netflix and chill, racing to book a First Table or enjoying a drink with friends. Share it with us on Facebook: /FirstTableNZ and Instagram: /@FirstTable with the hashtag #my9pm
Diners
Join more than 500,000 diners who already ❤ First Table.
Learn more
Restaurateurs
Join more than 1,400 restaurants who already ❤ First Table.
Learn more
© First Table 2014 - 2021