@capitaleats_ speaks on the Wellington food scene, childhood memories and daily routines #my9pm
December 2020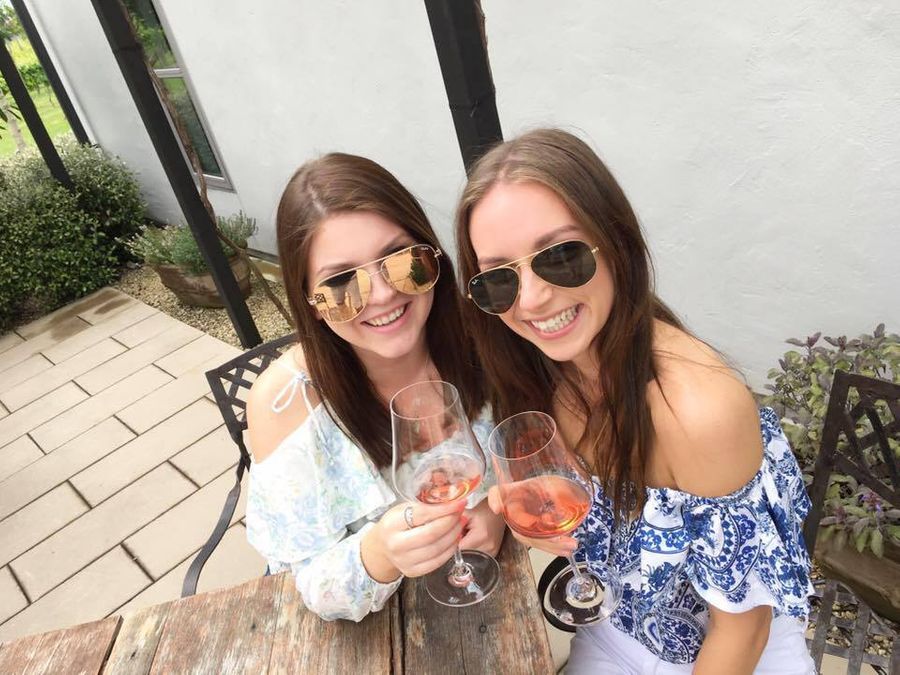 This food-loving duo is putting Wellington on the map with hundreds of recommendations, stories and reviews on the best eats our capital has to offer – cue the vibey entrance music and say a warm welcome to Vicky and Alana of @capitaleats_. We had a chat with these local legends and got to know a bit more about a day in the life of a food blogger, their childhood memories with food, daily routines and everything in between.
1.Tell us a little bit about yourselves and what a typical day in your life looks like?
We both work full time in non-food-related roles – Vicky works at the Ministry of Justice and Alana works in a PR agency. We are both 27 and have been best friends for about eight years now, doing Capital Eats together for nearly six of those years. 
We normally try to take our own lunches from home but on the occasion we are buying lunch, Vicky will most likely order dumplings from The Dumpling Company on The Terrace and Alana will opt for Dan Dan Noodles from A Taste of Home. After work we are normally at the gym and then we're home for dinner or out to try a new restaurant! We generally eat out two to three times a week –  it's definitely a lot of fun but we also love balancing those nights with evenings at home, and some downtime. The weekends are for exploring the food scene and trying new cafes and restaurants.
2. Do you have a set routine? And how do you make good habits stick?
We are pretty structured with our work-gym-sleep routine. Because we do eat out so much and are always trying new cuisines and food products, a good exercise routine is essential! 
3. Your first memories with food? 
Alana: I was such a fussy eater growing up, so all my friends and family find it hilarious that I'm out and about eating all sorts of things I would never have touched when I was younger! When I was a toddler my Dad was eating this special chocolate he had been sent from overseas (he's Scottish) and he was savouring it. In came two-year-old me demanding a taste and he begrudgingly offered me a small bite, but I shoved the entire thing in my mouth and ate it all. I've always had a sweet tooth! 
Vicky: I grew up eating lots of traditional Romanian and Greek foods like moussaka and dolmades (rice and meat wrapped in vine or cabbage leaves, because my parents are from Romania. My mum and grandma would always bake cakes regardless of whether there was something to celebrate. Lunch was our main meal of the day, with dinner being something really light. After lunch, we would always have dessert, cakes and other yummy baked treats. Like Alana, I've also always had a sweet tooth – probably because of all the post-lunch cakes. 
4. What inspired you to be food bloggers?
At the time that we started Capital Eats, no one in Wellington was really doing anything like this. We had just graduated university and wanted to broaden our horizons and try out all the great cuisines Wellington had on offer – instead of just our usual hangover brunch at Fidels. It was a photo diary, kind of. It just went from there really and since then we've had so many great opportunities, met so many great people and tried so many foods we would never have otherwise!
5. Your favourite First Table restaurant?
That's a hard one! We love First Table and use it often. Our top picks would have to be The Long Bar (amazing Malaysian food), Hot Sauce and Portlander.
6. Who do you share your dining experiences with?
Often it's just the two of us dining out together – we are quite adventurous compared to some of our friends and they don't necessarily want to try all the new restaurants that we do. But on occasion we do get the opportunity to bring friends or family along to dining experiences we've been invited to and they love it! Who wouldn't though, right? 
7. How does dining early fit with your routine? 
Dining early is perfect for our routine. While we love dining out and socialising, we are also both quite introverted and sometimes after a long working day we prefer to get in, get out and get home. Booking a First Table restaurant means we can meet up directly after work, eat a delicious meal, get some Capital Eats content, have a catch up with each other and then be home watching Netflix by 8pm – ideal! Dining out early is also best for photography, the more natural lighting, the better the photo.
8. What does your 9pm generally look like? Any evening rituals?
By 9pm we are both generally in bed, skincare on, peppermint tea in hand, watching whatever TV series is current (at the moment it's The Queen's Gambit and The Undoing) and winding down for the night. 
First Table availability for the next seven days now rolls over at 9pm in New Zealand. Which means you can book a popular table for the week ahead, at a more reasonable hour! We'd love to see what your 9pm ritual looks like, whether it's Netflix and chill, racing to book a First Table or enjoying a drink with friends. Share it with us on Facebook: /FirstTableNZ and Instagram: /@FirstTable with the hashtag #my9pm
Diners
Join more than 500,000 diners who already ❤ First Table.
Learn more
Restaurateurs
Join more than 1,400 restaurants who already ❤ First Table.
Learn more
© First Table 2014 - 2021